Climate service facilitates fashionable agriculture in Ningxia
Posted On April 7, 2023
[ad_1]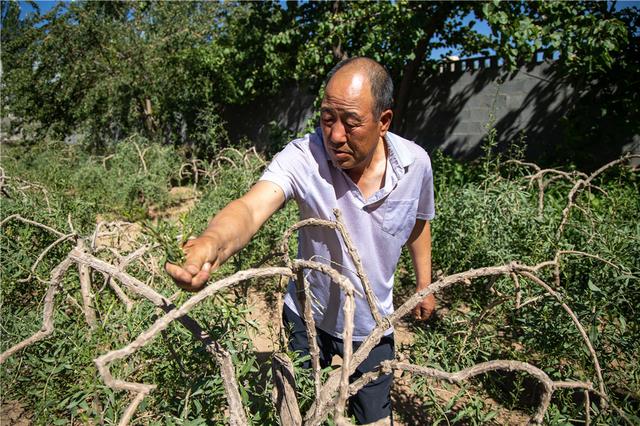 YINCHUAN — On the vast Xizan goji berry plantation in Zhongning county, Ningxia Hui autonomous region, the goji plants start to sprout as the spring breeze blows, guarded by a well-constructed weather service base.
"Some budding signs can be observed now, though they are not obvious. The plants will sprout strikingly and turn green in about two weeks," said Zhang Lei, an expert at the meteorological research institute under the regional weather bureau.
As of last year, the planting area of goji plants in Ningxia had reached 25,333 hectares. The region aims to double the planting area and achieve an overall industry value of 50 billion yuan ($7.3 billion) by the end of 2025.
The unique weather conditions of the dry climate, abundant sunshine and significant temperature difference between day and night guarantee the goji berry quality and make Ningxia a core area for goji planting.
However, such agro-meteorological hazards as frost, drought, heat stress and occasional rainstorms pose threats to the high-quality development of the local goji industry.
Facing the adverse factors, Ningxia established a weather service center for the goji industry and laid out an effective disaster prevention and relief network composed of many micro weather stations in farmlands, real-time monitoring systems and field test bases.
The weather service base at the Xizan goji berry plantation is a good example.
The base is equipped with rain shelters, an artificial rainfall system and irrigation equipment, where Zhang Lei and his team can monitor the growing conditions of goji plants in different stages.
"We need to watch for frost in spring to protect goji buds while monitoring the rainfall in summer to better forecast an ideal time for picking goji berries," said Zhang, who noted that untimely picking may cause economic loss as goji berries are delicate and require a lot of manual labor.
By optimizing the national goji intelligent service system and agro-meteorological data sharing platform, Ningxia can share useful observation data and services with other major goji berry production areas in China such as Gansu and Qinghai provinces and the Inner Mongolia autonomous region.
"We will alert plantations to potential bad weather in a timely manner through WeChat groups and advise on production and pest control," said Jiang Linlin, Zhang's colleague.
In January, an action plan was jointly issued by the China Meteorological Administration and the Ministry of Agriculture and Rural Affairs. It said that efforts should be made to boost the high-quality development of agriculture through refined meteorological services.
"Weather means everything to agriculture, while precise and timely forewarning of agro-meteorological hazards is playing an increasingly important role in ensuring food security," Zhang said.
Apart from goji berries, the long jujubes in Ningxia's Lingwu city are also a regional specialty.
Thanks to the weather service, hundreds of jujube trees in the greenhouses of the Daquan tree farm in Lingwu have borne fruit already, while the jujube trees planted in open fields have not even sprouted.
These jujubes will ripen within one month with advanced tech support, about half a year earlier than those grown in open fields, said Wan Zhongwu, deputy head of the tree farm.
According to Wan, they sold for up to 400 yuan per kilogram last year, generating good revenue for the farm's over 60 workers.
"We are now exploring ways to shorten the dormancy of long jujubes to achieve three or even five harvests in two years," Zhang said.
The scientific advice from meteorologists and refined management matters a lot to the development of modern agriculture, said Wan, who hopes that one day fresh jujubes can be available all year round.
Xinhua
[ad_2]