Schnur household's success in agriculture began in 1800s – Butler Eagle
Posted On April 11, 2023
[ad_1]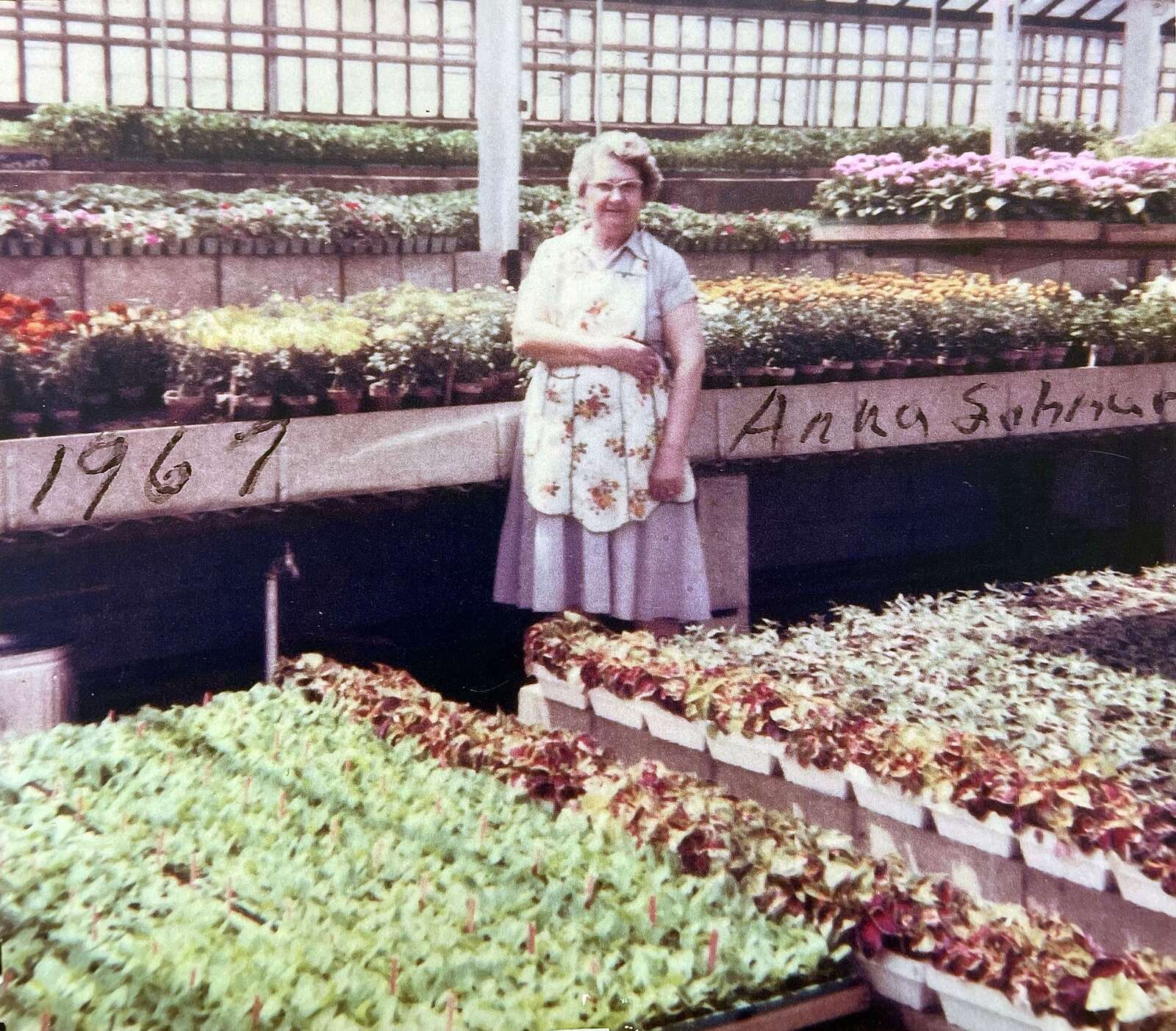 Jim Schnur's grandmother, Anna Schnur, stands next to an abundance of produce and plants grown at the family's greenhouse in 1967. After the death of her husband, the family started to focus primarily on garden starters and flowers, which are the main products at Schnur's Greenhouse in Summit Township today. Photo from Schnur Family, 1765-2013, by Richard Eugene Schnur
Generations of Growth
Many people know nothing about the lives of their great-great-grandparents, but for others, like county resident Jim Schnur, history has a funny way of repeating itself.
Schnur, 68, owns and operates Schnur's Greenhouse, a longtime establishment in Summit Township. For over a century, the greenhouse has provided the community with holiday flowers, herbs, specialty plants and vegetables. From winter poinsettias to fresh summer hops, Schnur's carries a wide variety of plants and produce.
A green thumb may have become a genetic trait for the Schnur family, starting with Peter Schnur, Jim's great-great-grandfather. Peter immigrated to the United States from Prussia, an area now primarily divided between Poland and Russia, with his mother and father in the 1830s.
The family's story is preserved in "The Schnur Book" by Bill Schmitz, one of three books about the family housed in the genealogy section of the Butler Area Public Library.
Early life
Peter grew up in Pittsburgh, where he worked at a steel mill for 10 years after graduating from high school. After leaving the mill, he got his hands dirty in a new way, working on a Pittsburgh farm, before enlisting to fight in the Civil War.
Then, like many Civil War veterans, Peter found a career in agriculture after the war, moving north to start a farm of his own.
Planting a seed that would continue to grow over 100 years later, Peter purchased land in Summit Township in 1870.
Perhaps a pleasant surprise for Peter was when Summit Township's first "wildcat well" — an exploratory oil well — was drilled on the farm in 1873. Peter would soon have two wells "producing an average of eight barrels per day," according to "The Schnur Book."
Oil wells were drilled "as far south as Herman's Station on the Butler Branch Railroad in Summit Township," according to "The Schnur Book." Acreage that once cost $30 to $40 began to sell at upward of $250 per acre.
Six years after he bought the farm, Peter and his wife, Elizabeth, settled in Butler County. Their sons, George and Leo, would devote their lives to the family's cause.
A passion for gardening
George had a passion for gardening, even as a child. He assisted his father on the farm, even while pursuing a "more profitable" trade as a stonemason for 12 years, according to "The Schnur Book."
In 1889, George named the farm "Schnur's Greenhouse," and began to sell produce out of his truck, traveling to Pittsburgh markets, according to his great-grandson, Jim.
After years of saving and providing for a family that included 12 children, George purchased an additional 80 acres of "fertile farmland" adjoining his father's property by 1910.
George was responsible for many significant improvements to the farm: building his home, a barn and six "hothouses" on the property. These greenhouses were covered with sheets of glass as large as 112 feet by 155 feet.
George modernized production processes and "supplied a large wholesale trade at Butler, making a specialty of lettuce and greenhouse plants," according to "The Schnur Book."
When George died in 1934, the family tradition continued, as the business was once again passed down from father to son.
A third generation of Schnurs, William Schnur and his wife, Anna, managed the farm — and their own 12 children — through the rest of the Depression years and World War II.
When William passed away in 1945, Anna and their children continued to run the business.
Anna took pride in the flowers and vegetables that grew on the property. Living on the original homestead until her death in 1974, she would often patrol the greenhouses, admiring her family's work.
Today, Jim describes memories of his grandmother, Anna, carefully supervising his efforts as a child.
"Mostly, I remember, we would haul items in and out of the greenhouse while she watched from the window. She would just sit there, watch and yell at us," Jim says with a chuckle. "We were just kids, messing around. She treated us well; she just liked to yell at us."
A time of change
In 1952, Jim's parents, Willis and Kathryn, bought the business, building a new home where the original barn once stood.
The 1950s and 1960s were a time of change as this fourth generation of Schnurs continued to grow the business, making improvements and renovations to the greenhouses, when possible.
Three generations of the Schnur family — Greg Schnur; his father, Jim; and his son, Will — pose for a picture in the family's greenhouse. As in previous generations, the family works hard to provide customers with a wide array of produce and other plants. Layla Joseph/Submitted photo
According to Jim, Willis hit a crossroads in 1964 — the old greenhouses needed to be demolished. Willis questioned whether he should rebuild the greenhouses or give up and change his occupation.
After tearing the structures down, he decided to dig his heels into the dirt and continue gardening. Within five years, he made modernized additions to the property — building two glass enclosures, both larger than before, and adding two plastic greenhouses in the 1970s.
Of Willis's five children, Jim would carry the family business into the next generation. In 1990, Jim left his job with Summit Township and got back to his roots, returning to the greenhouse and working for his father full-time.
Just four years later, his father retired and left the business to him.
The family tradition continues — Jim and his wife, Cindy, continue to own and operate the greenhouse with their two sons, Greg and Scott.
Jim says that Greg hopes to be the next heir to the greenhouse once he retires, allowing the Schnur family legacy to thrive for yet another generation.
Layla Joseph is a senior at Slippery Rock University, where she studies strategic communication and media with a concentration in multimedia journalism.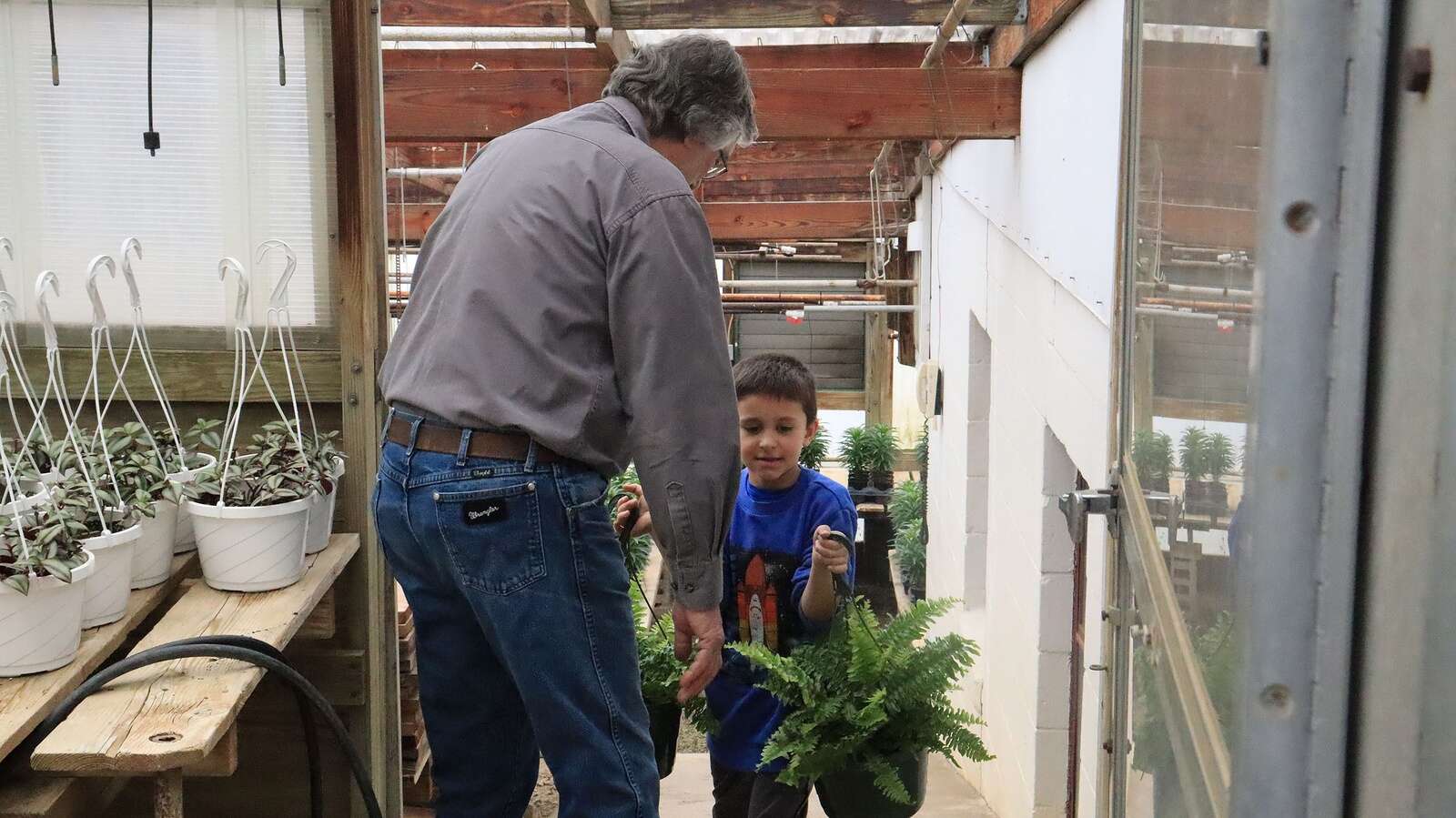 Jim Schnur smiles after handing plants to his grandson, Will, who carries potted ferns in the greenhouse on Monday, Feb. 27, 2023. Like generations past, Will shares the same love for agriculture. "He gets off the bus and he tends to run straight here," Jim said about his grandson. Layla Joseph/Submitted photo


[ad_2]