Fess Parker, Jennifer Lopez & Lil Wayne
Posted On March 1, 2023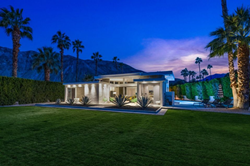 Where Real Estate Is Never Boring!

POMPANO BEACH, Fla. (PRWEB)
March 01, 2023
February's Top 10 Celebrity Real Estate News
"J.Lo Changes Her Mind – Lists Bel Air Home"

Back in 2016, Jennifer Lopez bought a home in LA's tony Bel Air neighborhood for $28 million, with plans to renovate. Now living mostly in her Florida home, Jennifer has listed the nine-bedroom estate on eight acres for $42.5 million. The compound also includes a guest home, 100-seat amphitheater and a private lake with a sandy beach.
"Jim Carrey's Private & Artsy LA Home"

Jim Carrey has listed his longtime LA home for $28.9 million. Located in the city's Brentwood neighborhood, the five-bedroom home includes 12,704 square feet on two acres with more than 280 feet of hedged frontage. The listing shows some of Carrey's own artwork, but the art is not included in the sale.
"Eureka: JLo & Ben Find a House"

After almost 18 months, Jennifer Lopez and Ben Affleck have finally found a home. Married in September, 2022, the glamorous couple purchased a 15,000-square-foot home with seven bedrooms, 11 bathrooms and four kitchens. The home was listed at $34.5 million.
"Lil Wayne Sells Miami Beach Home"

Lil Wayne has sold his Miami Beach contemporary home for $28 million. Located on Allison Island, the 10,632-square-foot home features 110 feet of water frontage and stellar views of the palm-lined Miami shore. Sleekly modern, the home features mahogany paneling, tons of glass, and 22-foot ceilings. The home was originally listed for $29 million.
"Mark Wahlberg's Mega Mansion"

After almost a year and a $32 million price cut, Mark Wahlberg has sold his 30,500-square-foot Beverly Hills home for $55 million. Some of the home's features include 12 bedrooms, a five-hole golf course, a tennis court, skate park, and a giant workout room.
"Madonna's 1990's Hollywood Hills Home"

A Hollywood Hills home with views of Downtown Los Angeles and the Hollywood Sign and was previously owned by Madonna from 1993 to '96 is for sale at $21 million. The nine-bedroom home was also reportedly used by Bugsy Siegel as a gambling den and as a film location for the movie "Beverly Hills Cop."
"Tommy Hilfiger Acts Fast On Palm Beach Mansion"

In January, Tommy Hilfiger bought a Palm Beach home with 7,265 square feet for $36.85 million, and he has already listed it for sale at $47.95 million. The Mediterranean-style home was built in 1927.
"Fess 'Davy Crockett' Parker's Palm Springs Home"

Before "The Mickey Mouse Club," The Beatles and Farah Fawcett, actor Fess Parker's role as a real-life frontiersman in Walt Disney's "Davy Crockett" television series was the first big media star for baby boomers. Kids from LA to Boston were glued to their parents' TV screens in 1954 when Disney brought the historical figure to life. Parker died in 2010. His longtime Palm Springs home, known as the Fess Parker Estate, was recently listed for $1.975 million.
"Queen of Soul's Motown Golf Home"

Aretha Franklin's Detroit home on a golf course has listed for $975,000. Built in 1927 on the Detroit Golf Club, the six-bedroom home includes almost 6,000 square feet. Aretha died in 2018.
"'Big Bang Theory'" Star Lists Los Feliz Home"

Simon Helberg, best known for his role in the "Big Bang Theory" as Howard Wolowitz, a Jewish aerospace engineer and former astronaut, has listed his LA home for $8.997 million. Located on a private lot at the end of a cul de sac in the celebrity-heavy Oaks neighborhood of Los Feliz, the Spanish-style estate was previously owned by Vince Vaughn.
For more celebrity home news and celebrity home video tours, visit TopTenRealEstateDeals.com.

Share article on social media or email: